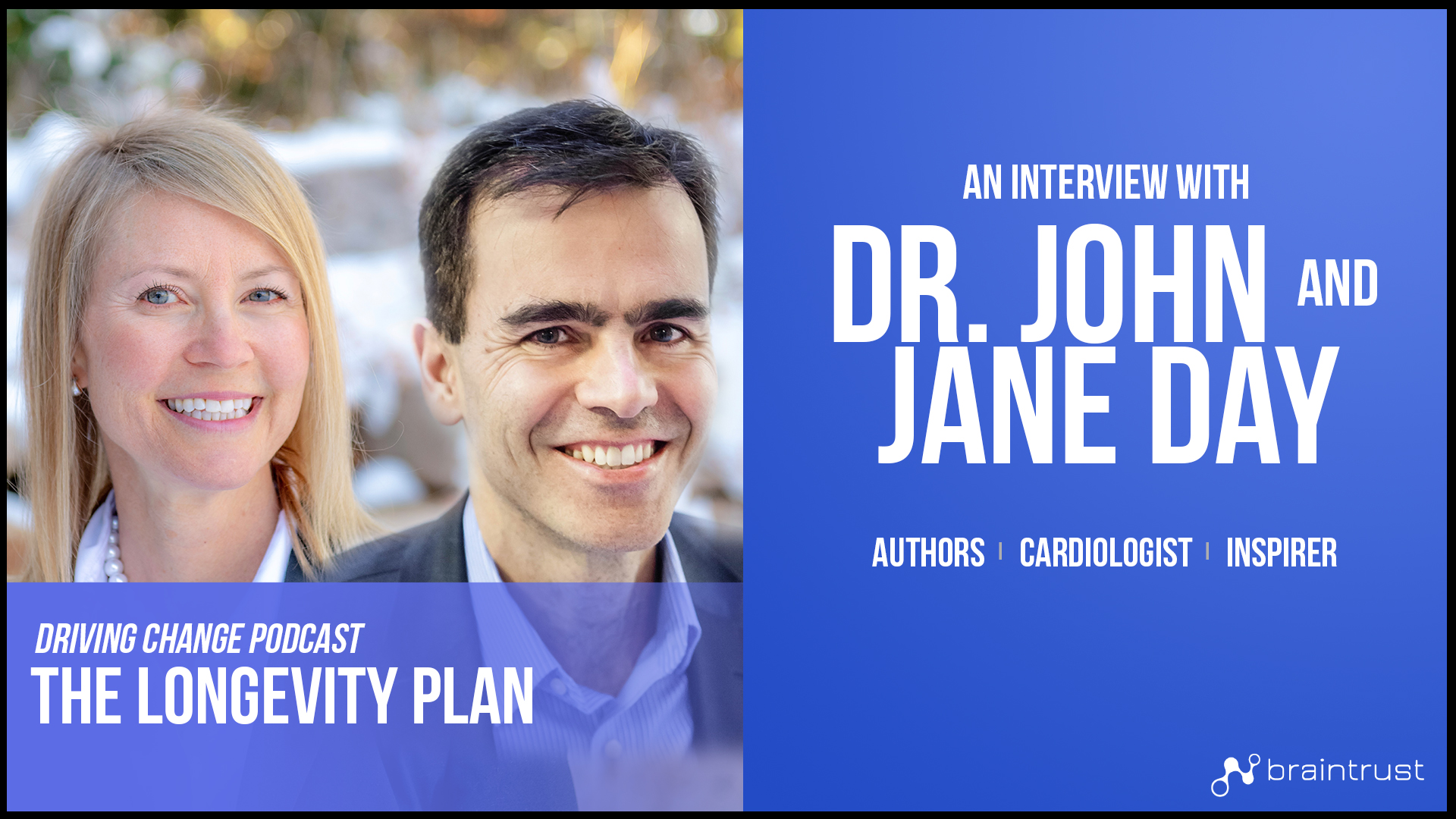 Happy New Year from Braintrust! We are delighted to start the new year with an interview featuring Dr. John and Jane Day who share amazing tips on how to live longer, healthier, and happier. It's a great listen to kick off 2021!
      Dr. John Day graduated from medical school at Johns Hopkins University.  He did his residency in internal medicine, cardiology, and cardiac electrophysiology fellowship training at Stanford University.  He currently serves as the medical director of Intermountain Healthcare's Heart Rhythm Services in Salt Lake City, Utah.  He previously served as president of the Heart Rhythm Society and is the immediate past president of the Utah chapter of the American College of Cardiology.  He is recognized as an international thought leader in atrial fibrillation management. 
      Dr. Day is board certified in cardiology and cardiac electrophysiology.  He has published more than 100 manuscripts, abstracts, and book chapters and regularly lectures both nationally and internationally on heart rhythm disorders. He is the former editor-in-chief of the Journal of Innovations in Cardiac Rhythm Management.
      In 2017 Dr. Day published The Longevity Plan: Seven Life-Transforming Lessons from Ancient China, with Harper Collins as the publisher. The Longevity Plan was an Amazon number one bestseller and was named best books of 2017 by the Huffington Post and won the Nautilus Book Award Gold Medal for the best book of 2017. John's second book, The Atrial Fibrillation Cure, will be published on February 16, 2021, by BenBella Books. 
      Jane Ann Day is a Doctor of Business Administration Fellow at Case Western Reserve University. Her work, documented in international academic journals, has taken her throughout Asia, the Middle East, and North Africa, where she has empowered communities in need with self-reliance and entrepreneurial skills and tools. Jane currently facilitates strategic planning and consults on organizational and leadership development.
    Above all, John and Jane are the joyful parents of four adventurous young souls who provide them with daily opportunities to practice and teach the seven longevity principles.